Semi Automatic Liquid Machine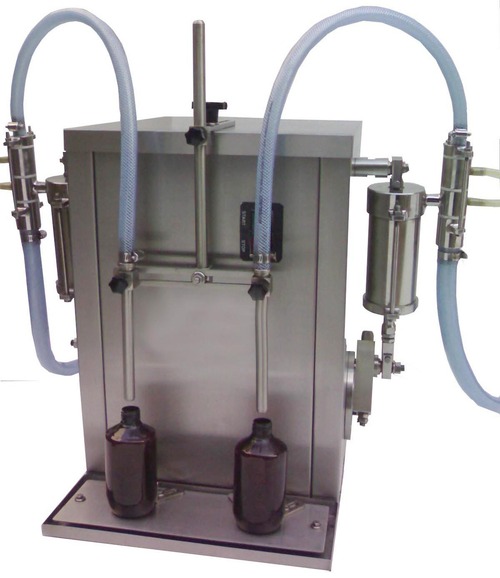 Semi Automatic Liquid Machine
Product Description
Manufactured to suit with specific requirements of packaging industries, the offered Semi Automatic Liquid Machine is mostly cherished for its smooth operations. This machine is manufactured under the strict vigilance of our skilled professionals with the use of premium quality components. It is widely used for filling various kinds of liquids such as jelly, petroleum, juices, strainers, perfumes, oils, etc. Our clients can avail this Semi Automatic Liquid Machine at reasonable prices.
Features:

Robust construction
Low maintenance
Energy efficient
Longer service life
We concentrate in producing Semi-automatic liquid filling machines which are usually used in fill any kind of liquid such as juices, phanna syrups, drinking water, strainers, flavored milk, paints, perfumes, petroleum jelly, hair oil, adhesives, shampoo, dahi, edible oil, lube oils, coolants etc. Our produced machines show signs of the following. It has a Semi auto volumetric kind piston based liquid filling machines which are very helpful for filing any free flowing fluid into any shape container / jars / bottles and many more. It can be used in food, chemical, pharma, beverages & allied industries
Specifications:
Oil filling:Fertilizer filling:Jelly filling
Juice filling:Agro chemical filling:Hair oil filling
Milk filling:Adhesive filling:Balm filling
Syrup filling:Liquid soap filling:Edible oil filling
Hair oil filling:Mustard oil filling:Paint filling
Shampoo filling:Toilet cleaner filling:Resin filling
Other Details:

Semi-automatic liquid filling with filling range from 15 ml. To 1000 ml. Twin head/Four head

Accuracy better than +-1parcent

Three different speeds or vary speed pulley depending upon capacity of Bottles.

Body Covered with S.S. sheet.

All contact part S.S. 304/S.S. 316.

Available size: 30, 60, 110, 260. 540 and 1000 ml.

Semi-automatic liquid filling can be provided with diving nozzles for frothy foamy liquids.

Semi-automatic liquid filling A unit to fill variety of liquid and can be used for various type of containers.

Semi-automatic liquid filling Specially designed valve assembly to avoid drip page.

Technical Specifications :
Main drive Motor: 0.5 HP for Model 260 ML. 1 HP for0 Model 540/1000 ML.

Gear Box: Radicon/Elicon/Crofts make.

Overall Dimension : 925 mm L X 485 mm W X 710 mm H

Output: 700 to 2000 Bottles/hour.depending up on the capacity.
Net weight: 120 Kgs. Approx.
Semi automatic liquid filling Available with 1/2 heads attachment
Works on Syringe Base Piston.

AvailableinSS304. SS316,GMPModel.
Easy and accurateadjustmentsoffilldesiredquantity.
Available inLinear and RotaryFormat.
Made upofhygienicmaterialsforhygienicfilling
Maximum tillingaccuracy: +- 2 4 parcent byweightoutputof 10-40 bottles min.
Compatible with other fillingequipments.
Available fillingrange: upto 5- 20mlto 1 -2 Lit. Withdifferentchangeableattachments
Single speeddriveforoutputcontrolcanbeprovidedifrequired.
Maximum output inminimum possible time
Adjustable and space saving
Stock Supply: 100 Machines/Month
Maximum deliveryin 25 days
Low power consumption
Syringe:Filling Range
10ml:3-10ml
15ml:4-15ml
30ml:8-30ml
60ml:15-60ml
110ml:30-110ml
150ml:40-150ml
260ml:65-260ml
560ml:140-560ml
1000ml:250-1000ml