Multi Head Weigh Filler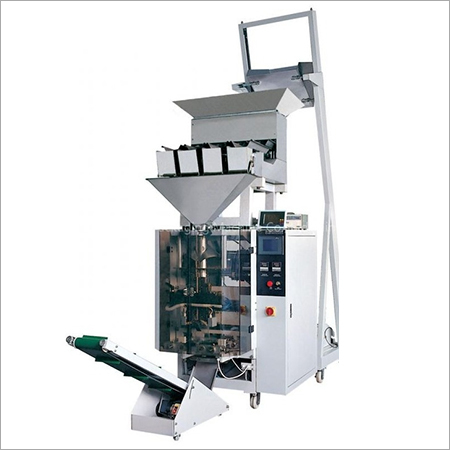 Multi Head Weigh Filler
Product Description
we are engaged in manufacturing, exporting and supplying a quality assured array of Multi Head Weigh Filler. It is a micro controller based machine suitable for filing food grade products in predefined and accurate quantity. This filler is manufactured by utilizing pristine quality components and highly advanced techniques. In addition, we provide this Multi Head Weigh Filler in different specifications at reasonable prices to our clients.
Features:

Lower power consumption
Negligible maintenance
Easy to operate
Longer service life
Multi Head Electronic Weigh Filler:
MODERN HIGH PRECISION MACHINES: -
Microprocessor Controlled Load Cell based, accurate & Consistent filling by weight. Membrane-touch keys for setting parameters for weigh filling and for exact weight.

USER FRIENDLY:
Maximum online settings. Easily accessible for print mark and Batch Coding settings. Fast and Easy size change over. All setting made via Touch Key & interactive message on screen

EFFICIENT: -
No Fill - No Pouch Logic hence No packaging material or product loss. Perfectly sealed pouches. High outputs with high fill accuracy. Low maintenanceSpeed: - 5000 kg per day.
Load Cell Based Microprocessor Controlled Multi Track Electronic Weigh Filler Pouch Packing Machines :
MODELP:1000 EWF
FILL SIZE :50 gms to 1000 gms
POUCH SIZE ;:Width : 75 mm to 250 mm
Height : 100 mm to 450 mm
COMPRESSED AIR:10 Cu Mtr/Hr @ 5Kg/Sq .cm
ACCESSORIES 1. Nitrogen FlushingSystem
2. Gussetting Assembly
3. Chain Cutting of Pouch
4. Batch Coding Unit

AUXILIARY FEED SYSTEMS
1. Screw Conveyor with Dump
PACKAGING MATERIAL : Laminates / Virgin films
OUTPUT : Max 40-50 Pouches per Minute (Depending on Product and Type of Packaging Material)

DESCRIPTION :
Vertical From Fill & Seal Machine for producing pillow / Centre Sealed & Filled pouches fully automatically from single reel of Laminate / Packaging material. Positive Film unwind by D C Motor so as to allow very thin films to be used. Online tracking, print registration and Batch Coding adjustment by turning of knobs. Machine available in Gripper Draw off version or Belt Draw off version as required for drawing down the film. Height of Pouch controlled by Microprocessor based print Registration system. Triple Electrical Protection provided. Machine provided with Perspex and Steel Guards.

APPLICATION :
For packing by exact weight Free Flowing Items Like Wafers, Snack Foods, Vermicelli & Pastas, Wrapped Toffees & Candies, Dry Fruits, Tea, Sugar, Rice, Pulses, Vegetable seeds. Most Suitable for packing of Costly Product.