Carton and Label Batch Coder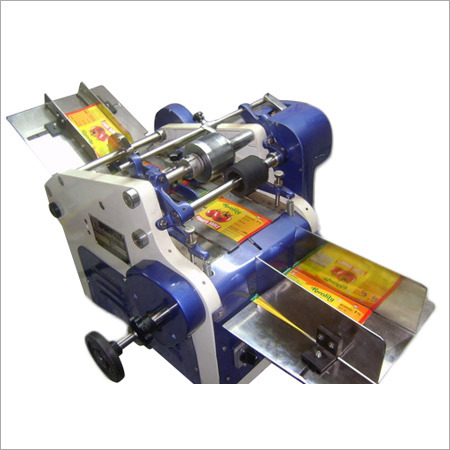 Carton and Label Batch Coder
Product Description
Carton and lable batch coder:
Royal pack make high speed carton and lable batch coder, Carton and lable batch coder for registered printing of B.No. Mfg.Dt., Exp.Dt., M.R.P. Rs., Ingredients, Logos, etc. on various types of labels, shrink sleeves, pouches, cartons, laminates, etc. Model -SLC-300-H Introduction:
Carton and lable batch coder are ideal for Automatic High Speed Coding on large quantities of labels & cartons. It delivers high quality multi-line printing at production speeds of 250 impressions / minute.
The labels or cartons are stacked on the slanting tray (Dispenser) for feeding, automatically picked up by the pick-up rubber friction insert, fed to the printing roller one by one via guide track and timing chain & stacked back in the collection tray automatically at very high speeds.
This system is similar to rotary letterpress.
The oscillating roller disperses an even thickness of ink film on the inking roller and the inking roller transfers the ink to the stereos & finally the image is transferred to the substrate.This cycle is continuously running at high speed with clear & sharp impressions.
The system is totally mechanically synchronized so that the printing is done exactly at the same location automatically.
Specifications:
CODER MODEL SLC-300 H LABEL / CARTON SIZE 305 mm x 165 mm Max / 100 mm x 50 mm Min PRINTING SPEED 125/180/250 Carton per minute MOTOR POWER 0.25 HP / 1440 RPM 414 V 3 Phase USE OF LETTERS Rubber Stereos & Metal Stereos MACHINE DIMENSIONS 863 mm (34) Length,762 mm (30) Width, 610 mm (24) Height NETWEIGHT 115 kg. Approx GROSS WEIGHT 195 Kg. Approx